The interdisciplinary research project SUCCESS will develop software-defined solutions for the digitalization of society, with focus on creating tight integration of 6G wireless connectivity and society-wide 6G applications. This five-year project has received 34 MSEK from the Swedish Foundation for Strategic Research and is spearheaded by five distinguished KTH professors: Emil Björnson, Karl H. Johansson, Mikael Skoglund, Elena Troubitsyna, and Elena Fersman.
This is the first project that approaches 6G challenges by combining world-leading expertise on wireless communications, information theory, autonomous systems, computer science, and machine learning. We are now looking for ambitious doctoral students and postdocs that want to work at KTH with different aspects of the project. We hope you want to join us on this journey!
Further project information
Future wireless communications should enable society-wide digitized applications, each with resilient and resource-efficient autonomy. To achieve that, we must abandon the end-to-end principle, dominating from the 1960s until 5G, where the data transfer is optimized separately from the software and services on the network edge. This project envisions a paradigm shift towards software-enabled networked cyber-physical systems, where numerous geographically spread devices, application servers, and AIs together with network and compute resources are fully integrated by advanced software. The main goal of the project is to introduce, develop, and validate the novel concept of system slicing, where the required resources for connectivity, computation, and decision-making are dynamically assigned to each application. The envisioned architecture is illustrated in the figure below.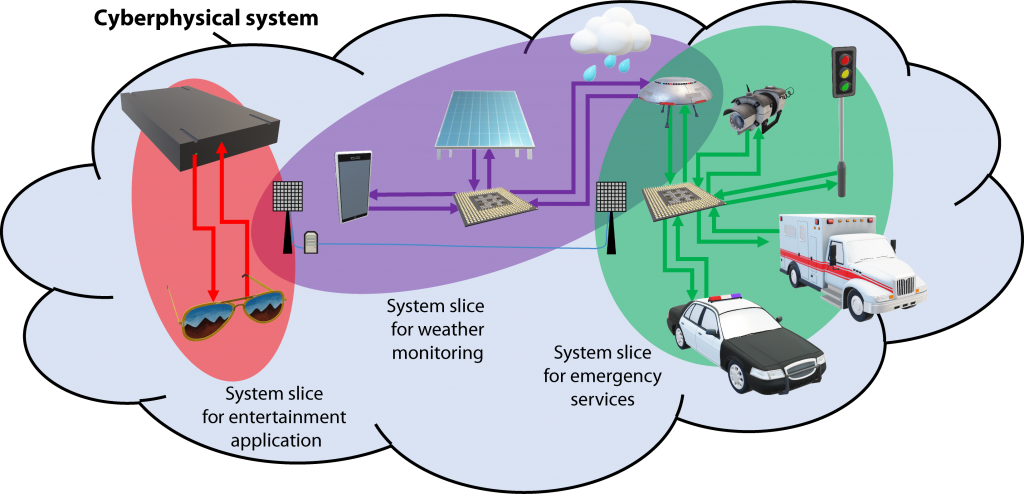 Within the project, we will develop an integrated software platform that builds on major research advances in four thrusts:
software-controlled integration of 6G-and-beyond physical infrastructure, virtualized compute resources, and applications;
novel system slicing methodology for optimized tradeoffs between system reliability and holistic energy consumption, using information flows and computational complexity;
modeling of trustworthy autonomous self-management and adaptation, to facilitating dynamic system slicing and risk-aware hedging;
mechanisms for resilient and safe autonomy at scale encompassing all network levels.
The research is divided into five work packages (WPs), which will work in parallel and collaborate towards the ambitious project goals:
WP1: Connecting the physical and virtual 6G network architecture (Lead: Emil Björnson)
WP2: Resource-efficient network resilience (Lead: Mikael Skoglund)
WP3: Software for self-monitoring and adaptation (Lead: Elena Troubitsyna)
WP4: Safe resilient autonomy under system slicing (Lead: Karl H. Johansson)
WP5: Demonstration of a safe intelligent transport system (Lead: Karl H. Johansson)
Each junior researcher will develop his/her expertise within one WP but be part of a larger project community that promotes cooperation and transfer of knowhow between WPs.